general
newsletter
Highlights from Essential Conversations on Human Services 2019
June 20, 2019
On June 11, we came together as a human service community to have essential conversations at our 2019 Annual Convening. We learned from each other and challenged ourselves to address some of the principal issues that face us today. We know that these conversations are critical building blocks to the actions we take to ensure the well-being of our society. The speakers and attendees who joined us last week demonstrated the ongoing commitment of our members and the sector to providing the solutions that lead to a just and caring nation. Check out our gallery of photos from the day to see all of the action.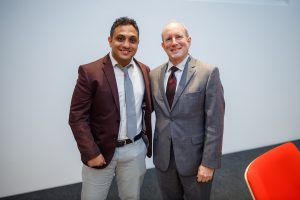 Immigration continues to be a topic at the top of every news cycle. We were pleased to welcome Mohammed AL Samawi as our keynote speaker and to share the story of his inspiring journey from Yemen to the United States, as recounted in his book, The Fox Hunt. Mohammed was granted asylum in 2015, something not possible today for a person from Yemen. We are fortunate that Mohammed is here to impart his message of the importance of interfaith dialogue and the power of social networks. As a community, a community that works for a common purpose, we are all stronger.
Outside of the keynote with Mohammed, there was other great programming throughout the day. We were inspired by the energy of our opening speaker, Whitney Parnell, CEO of Service Never Sleeps. Whitney challenged us to look at our privilege, whatever that may be, and seek to be an ally for those who are not so privileged. This was a call to action for a key element to strengthening our communities.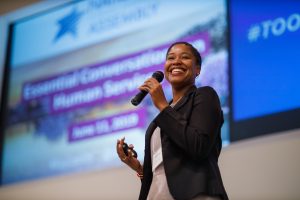 We also dove into the world of youth learning and development with a presentation from Co-founder and Executive Vice President of the Forum for Youth Investment, Merita Irby. The session focused on the report "A Nation at Hope" and the role that the human service sector plays in this work. Additionally, a phenomenal slate of panelists stimulated our thinking on ways in which organizations plan and engage in collaborative advocacy campaigns, including reframing and shared narratives, and ways to work effectively across organizations. Read a full synopsis from last week's Reframing Network Newsletter titled "Leveraging Coalitions and Shared Narratives for Grassroots Advocacy Success."
Thank you to our generous sponsors, supportive board of directors, and talented panelists and presenters for making the day a huge success. A special thanks goes to our outgoing Board Chair Susan Danish, CEO/Executive Director at The Association of Junior Leagues International, and new Board Chair Jeff Fleischer, President and CEO at Youth Advocates Programs, Inc., for leading the meeting. And thank you again to those that were able to join us at this year's Annual Convening, both to celebrate our past work and to inspire us for the important work yet to come.