How to Enroll in PurchasingPoint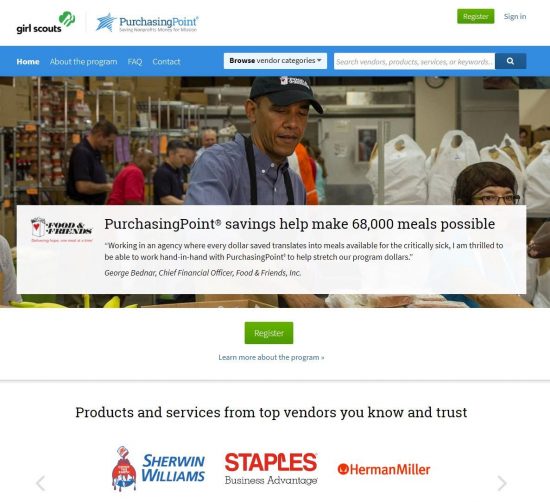 PurchasingPoint® can be accessed through a customized web portal made for each nonprofit member organization, association or network. The portal provides information about vendors and details how to access discounted pricing.* Visit the PurchasingPoint® portal for a more in-depth look at the program.
Existing or new members of the National Assembly
Existing members of the National Assembly are eligible for a customized web portal to share with your affiliates. If your organization is not currently a member, view our membership requirements and consider joining.
Nonprofit associations or foundations not currently members of the National Assembly
E-mail us at support@purchasingpoint.org to find out how you can access this program for you and your affiliate network.
Affiliates of a member organization that is part of the National Assembly
Visit your network's customized portal and register your location. If you do not have your organization's unique portal, contact the appropriate PurchasingPoint® program contact within your network for a link to your network's portal. If you are unsure who this person is within your network, e-mail us at support@purchasingpoint.org.
* All program information and pricing provided on the portal is proprietary and should not be leveraged or shared with outside vendors.
Are you a public policy professional in or around the DC area? Learn more about the National Assembly's public policy efforts, the Washington Policy Council, and getting involved in advocacy for the human service sector.
"In addition to money, PurchasingPoint® saves me time. I know that the prices I see are at least as good as what I might find by checking other vendors to see who has the best price." -- Rick Solomon, Hesperian Health Guides