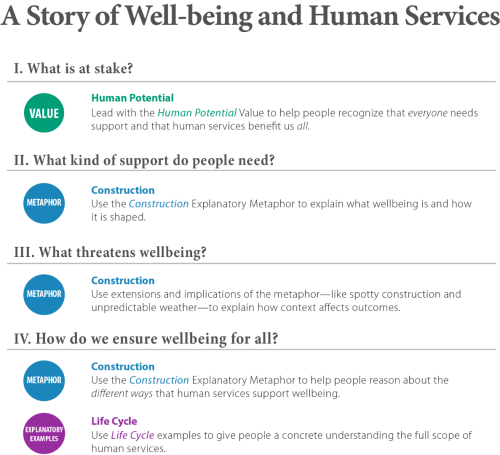 Building Well-Being: A New Narrative for Human Services
The National Assembly engaged FrameWorks Institute to conduct a rigorous research and testing process in order to identify a new frame for human services. Based on these findings, they created an overarching story that significantly increased the public's understanding of what human services are and why they are critical to a vibrant society.
We call it the Building Well-Being Narrative.
The most effective way to use the Building Well-Being Narrative is to invoke the recommended values, metaphors, and examples by:
Opening with an appeal to the Value of Human Potential.
Expanding the frame for human services by using the Explanatory Metaphor of Constructing Well-Being.
Reframing the assumption that human services should be temporary by drawing on Explanatory Examples that come from across the Life Cycle.
Coming Soon
The National Reframing Initiative's new practical and accessible online implementation guide, featuring user-friendly recommendations, troubleshooting strategies, and real-world examples for each step of the reframing process will be available on this page soon. Ensure you sign up for the Reframing Network Newsletter to receive notification when the guide has been released.
Get Started!
We encourage you to explore the research underpinning the Building Well-Being Narrative and take advantage of the free tools developed to help you bring your communications into alignment with the research.
The Building a New Narrative on Human Services Toolkit offers free resources that include talking points, tips for professionals looking to increase their comfort level with communicating within the new frame, FAQs, and background information on the research informing the reframing recommendations.
Talking Human Services: A FrameWorks Multi-Media MessageMemo synthesizes the research that informed the development of the new frame and offers recommendations for the human services field to utilize the frame to more effectively communicate the scope and value of their work.
Contact Us
For information on how your organization can join the Reframing Mobilization, contact Bridget Gavaghan.
This initiative is generously funded by The Kresge Foundation.
Don't miss out on the latest Reframing news! Sign up for our network newsletter, specifically for the Reframing Human Services Initiative to stay informed about program updates, implementation tips, best practice guides, practical advice, new publications, and more.
See our most recent policy actions and advocacy efforts of the Washington Policy Council.