Using the Frame
A Practical Implementation Guide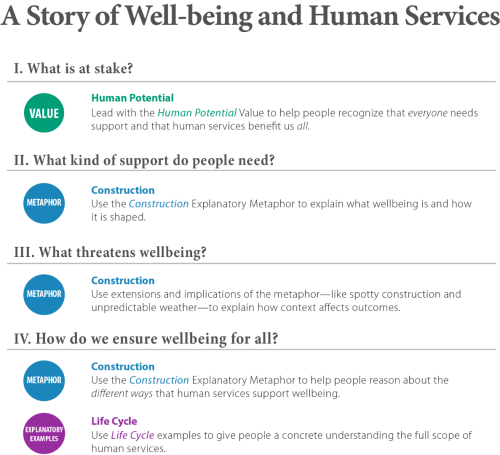 Building Well-Being: A New Narrative for Human Services
Reframing is a powerful communications strategy that carefully considers how storytelling choices, such as the specific values invoked and the metaphors used, influence the public's perceptions and responses to a particular issue.
On the National Assembly's behalf, FrameWorks Institute's research identified what we call the Building Well-Being Narrative, a frame that significantly increases the public's understanding and support of human services by:
The National Reframing Initiative developed this practical Implementation Guide to help human service organizations and allies fully integrate the Building Well-Being Narrative into their communications. The following modules offer user-friendly recommendations, strategies, and real-world examples for each step of the reframing process.
MODULE 1: Building the Case for Reframing – Understand the need for reframing and learn strategies to build organizational and stakeholder support.
MODULE 2: Implementing the Frame – Explore how to begin reframing your organization's key communications.
MODULE 3: Sustaining Reframing – Discover steps to fully integrate reframing into communications and ensure reframing practices are consistent and ongoing.
MODULE 4: Engaging the Community – Gather tips for expanding the frame across your community through advocacy, mobilization, and coalitions.
For more guidance and support, read past Reframing Network Newsletters and visit FrameWorks' Building A New Narrative on Human Services Toolkit.
This initiative has been generously funded by The Kresge Foundation and Annie E. Casey Foundation.
Don't miss out on the latest National Assembly news! Sign up for our network newsletter to stay informed about program updates, organization news, new sector resources, the latest publications, and more.
See our most recent policy actions and advocacy efforts of the Washington Policy Council.