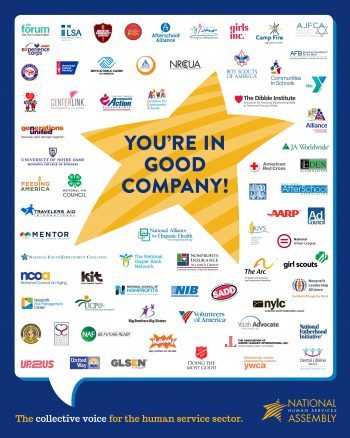 Overview of Membership
The National Human Services Assembly is a membership-driven change agent in the nonprofit human service sector that amplifies the voices of sector leaders through collaborative sharing of information, tools, resources, and collective engagement.
The National Assembly focuses on providing members with a robust set of programs, resources, and tools to strengthen organizations and to support the human service experts on staff. It is also committed to driving change in the human service sector through its public policy work and other initiatives.
Membership gives sector leaders multiple entry points and opportunities to positively shape human service practice and policy, with some benefits available to your network or affiliates.
Types of Membership
Full Membership: A nonprofit organization that is primarily focused on providing human services.
Associate Membership: A nonprofit organization that has a substantial interest in human/social services and/or the broader nonprofit sector.
PurchasingPoint Membership: A nonprofit organization outside of the human service sector to share the group purchasing program with their network or members.
An organization wishing to become a member also supports the mission of the National Assembly, agrees to participate actively in collaborative learning and action efforts that are relevant to its own mission and operations, and agrees to pay its membership dues.
Learn more about the National Assembly's commitment to meaningful equity and inclusion work in the human service sector.
Build public support for human services so that all people have the opportunity to reach their full potential and contribute to thriving communities.