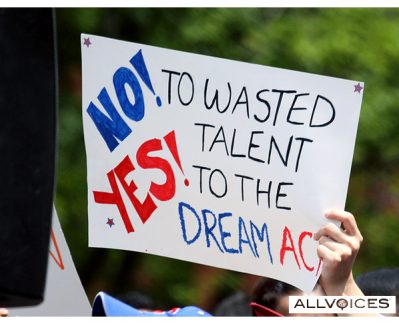 The Dream Act of 2017
The Dream Act of 2017 is bipartisan, bicameral legislation that provides a pathway to citizenship for undocumented youth and young adults who came to the U.S. as children. For those who qualify, the Act ensures conditional permanent resident (CPR) status for up to eight years, protection from deportation, the ability to work legally in the U.S., and the ability to travel outside of the U.S. To be eligible, participants must have entered the U.S. before the age of 18 and lived continuously in the U.S. for at least four years before the passage of the bill. They must also pass a background check, have no serious criminal record, undergo a medical exam, and pay a fee. Additionally, participants must currently be enrolled in secondary school, have already earned a high school diploma or its equivalent, or prove admittance into an institution of higher learning.
Dreamers, or recipients of the Deferred Action for Childhood Arrivals (DACA) Program that was rescinded by the Administration in September of 2017, would automatically receive CPR status.
The National Assembly recognizes that immigration is wind in our countries sails, providing us with the tools we need to move forward. We support a practical approach to immigration policy that helps everyone reach their full potential, and that is respectful to current residents of the U.S. Alternative legislation, like the SECURE and SUCCEED Act, use Dreamers as a bargaining chip for border security measures that would harm immigrant families and communities.
We recently released talking points to help the human service sector convey how immigration helps our economy grow with shared prosperity and encourage everyone to support the Dream Act of 2017. While the urgency by lawmakers to establish permanent protections for Dreamers has recently waned, there are still several developments at the federal level worth noting.
The National Assembly actively participates in the Immigrant Youth Coalition led by the National Education Association (NEA).
Are you a nonprofit looking to save money on purchases? Check out the PurchasingPoint program.
Sign up for our newsletters and stay up-to-date on the latest National Assembly and sector news.