Reframing
newsletter
Leveraging Coalitions and Shared Narratives for Grassroots Advocacy Success
June 14, 2019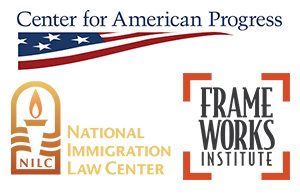 The National Human Services Assembly held its 2019 Annual Convening, Essential Conversations on Human Services, on Tuesday, June 11. Of the stimulating discussions, Brandon Toth, the National Assembly's Director of Public Policy, moderated the panel, "How Human Service Organizations Can Strategically Marshal Grassroots Advocacy Campaigns." He was joined by: Khalilah Harris, Managing Director for K-12 Education Policy, Center for American Progress; Sonya Schwartz, Senior Policy Attorney, National Immigration Law Center; and Julie Sweetland, Vice President for Strategy and Innovation, FrameWorks Institute.
Because grassroots advocacy has been a mainstay for human service organizations in their efforts to achieve policy gains, the panelists considered questions around ways in which organizations plan and engage in collaborative advocacy campaigns — including reframing and shared narratives, such as the Building Well-Being Narrative — as well as ways to work effectively across organizations.
Useful reframing and collaboration insights from the panel to apply in your advocacy work include:
Be Mindful of the Long-Term
Sweetland cautioned that while it might be tempting to be rhetorical or argumentative in our advocacy messages in order to achieve short-term gains, that approach can deepen polarization and apathy in the long-term. Read more about the importance of reframing with an explanatory tone.
The panelists agreed that tying advocacy and communications strategies to a clear theory of change can help organizations and coalitions identify meaningful short-term strategies and metrics to reach the desired long-term outcomes.
Be Inclusive
As reframing teaches us, Harris and Sweetland advised advocates to help people think about an issue from a civic perspective rather than a partisan perspective, including by explaining how everyone is affected by the issues an advocacy campaign is addressing. For example, Harris pointed out that everyone is impacted when we don't provide equitable access to a good education.
Harris and Schwartz emphasized the importance of engaging the people who are directly affected by a policy, not just professional advocates, in developing policy recommendations, advocacy strategies, and messages.
Be Consistent
Sweetland offered that since we're all up against the same mental models, or shared cognitive shortcuts, organizations should align arguments better and use common language, such as that in the Building Well-Being Narrative, to have more concentrated impact.
Panelists agreed that organizations sharing a common narrative and coordinating for collective impact are essential to long-term social change.
SPOTLIGHT: More Guidance from FrameWorks Institute's Julie Sweetland
Julie Sweetland, Vice President for Strategy and Innovation at the FrameWorks Institute, joined the National Human Services Assembly's public policy team on its What the Hill podcast in October 2018. Sweetland offered guidance on how human service advocates can apply FrameWorks' research to federal immigration policy issues, including family separation, the public charge rule, and the 2020 Census. Among the key takeaways were:
Use the Building Well-Being Metaphor,
Normalize and Avoid Othering,
Provide Important Context,
Balance Challenges with Solutions, and
Use a Long-Term Strategy.
Listen online, on-demand.