Initiatives
resource
Awake to Woke to Work: Building a Race Equity Culture
August 1, 2018
Awake to Woke to Work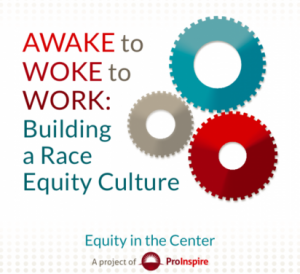 , a report from Equity in the Center, outlines ways that organizations can help dismantle structural racism and inequities both inside and outside their organizations. The report identifies three proactive organizational stages that build race equity culture — one that is focused on "proactive counteraction of race inequities."
The "awake" stage is classified as an organizational commitment to hiring diverse staff and recruiting board members from different race backgrounds. The goal in this stage is simple representation.
At the "woke" stage, organizations work to create an environment that is not only representative, but truly inclusive. All staff should be equipped to discuss meaningfully race equity and inequities, and feel comfortable sharing their experiences.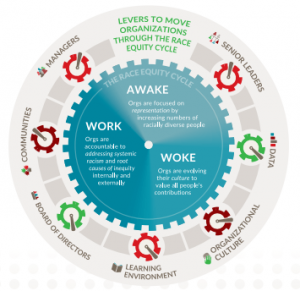 At the "work" stage, a race equity lens is applied to all aspects of the organization, with a focus on internal and external systems change. This includes a formal race equity evaluation of processes, programs, and operations.
The report also identifies several "levers" that can help build momentum at every stage toward a race equity culture: senior leadership, management, board of directors, community, learning environment, data, and organizational culture.
Although there is no single correct way to build a race equity culture, the report provides broad guidance on how to get started. Building a shared organizational vocabulary, identifying equity champions at the board level, clearly defining how race equity relates to the organization's mission, openly discussing racial inequities with staff, and collecting data are all identified as "actionable" steps towards dismantling structural racism within the sector.