Reframing
newsletter
Reframing Examples from the Field: Advocacy Communications
July 13, 2017
Policymakers play a critical role in positioning communities to build and maintain the well-being of their residents at every stage of life. Among other impacts, policy decisions determine the types and quality of services available, which communities and populations have access to those services, and whether or not services are adequately resourced and appropriately staffed. In order to make good decisions, policymakers need to understand how human services work, why they are important, and that they are a priority for the public.
This week, we're featuring examples of how partners in the field reframed public policy communications in order to provide a clear understanding of the societal value and collective benefits of the full range of human service programs and policies.
The Building Well-Being Narrative was specifically designed, tested, and proven by the FrameWorks Institute to increase public support for a wide range of human services related programs and policies, as seen in the chart below. The narrative was effective with a nationally representative sample of the public, which means it worked well across race, gender identity, religion, and political ideology.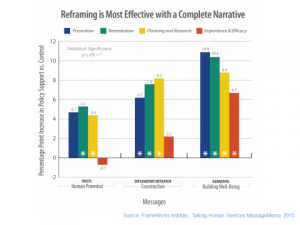 Policy Platforms and Agendas
Public Policy platforms and agendas are cornerstone documents that set the tone for future advocacy communications, such as talking points, testimony, and outreach to the media. The Alliance for Strong Families and Communities offers a particularly strong example of how to incorporate the full Building Well-Being Narrative with their Public Policy Platform and 2017-2019 Federal Public Policy Agenda, released earlier this year.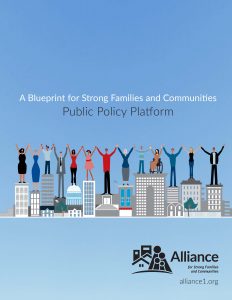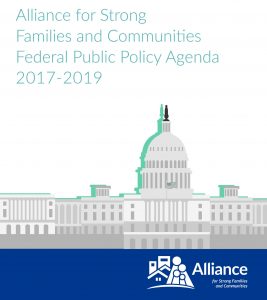 Read our June 15 newsletter to find out more about the Alliance's work to reframe their advocacy communications. 
Position Statements
Human services' policy position statements, including op-eds and letters to the editor, provide the public with an informed perspective on the implications of a policy proposal. Using tested reframed narratives, 
taking an explanatory tone
, avoiding jargon, and 
offering sensible solutions
 can deepen the public's understanding of policies and increase the public's engagement as advocates and allies.
Earlier this year, One Voice Central Texas and Immigrant Services Network of Austin authored a statement explaining the statewide consequences of withholding public funding from localities that choose to set their own law enforcement priorities regarding undocumented immigrants. The commentary, published in the Austin American-Statesman, relied on the FrameWorks Institute's research on immigration reform and human services.
Read our 
May 4 newsletter
 for more details on how the organizations incorporated reframing research into the commentary.
Posts to sites like Twitter and Facebook can amplify human services advocacy messages by providing quick and easy opportunities to directly engage the public, political leaders, and other influential community members. The 
Responsible Budget Coalition
 in Illinois did this effectively by using the 
Value of Human Potential
 in a tweet promoting a state budget policy recommendation. The 
tweet
 (below) was part of an exchange with gubernatorial candidate J.B. Pritzker.