Reframing
newsletter
National Partner Reframes its Advocacy Communications
June 15, 2017
This week, we're highlighting the work of one of our National Reframing Initiative partners, the Alliance for Strong Families and Communities. The Alliance's leadership and commitment to reframing human services over the past 18 months has helped to build a movement of national and local leaders across the country. The organization worked with NHSA to offer several learning opportunities to engage its national office and nationwide network in reframing through workshops and presentations. We are particularly excited to share the Alliance's recently released, and excellently framed, Public Policy Platform and 2017-2019 Federal Public Policy Agenda.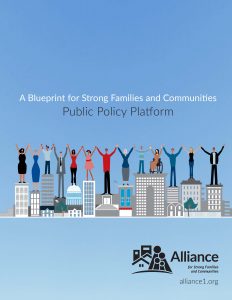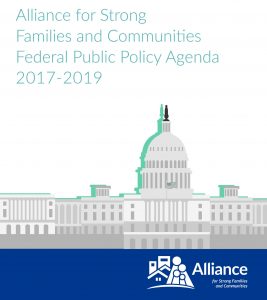 The public policy platform, A Blueprint for Strong Families and Communities, which was developed through a collaborative process between the national office and its members from across the country, establishes the framework that will guide the network's public policy decisions at every level of government. The Federal Public Policy Agenda identifies the specific policy issues the organization will focus on at the national level. While the Building Well-Being Narrative is integrated throughout both pieces, we thought it would be instructive to provide a breakdown of one passage in particular that uses all three elements of the narrative.
A Blueprint for Strong Families and Communities (Introductory Paragraph)

The Alliance for Strong Families and Communities believes that our country thrives when everyone is able to reach their full potential. Our strategic action network of hundreds of social sector organizations across the nation works with millions of people each day to help them build, maintain, and restore their physical, emotional, social, and economic well-being. The knowledgeable staff and leaders from our field of community-based organizations are committed to achieving a healthy and equitable society. Our network holds itself accountable to ensuring people have equal access and opportunity to the tools and resources needed to thrive over the course of a lifetime.