Reframing
newsletter
Keeping People in the Story
April 6, 2017
Human service organizations have long relied on telling stories of personal success or struggle to convey the impact and importance of a service or policy. We often include these examples in our fundraising appeals, advocacy campaigns, and media outreach with the goal of inspiring the public's engagement and support. But we've learned through our partnership with FrameWorks Institute that this type of storytelling can have unintended consequences when the examples are episodic in nature. The good news is, that doesn't mean we need to completely excise people from our communications.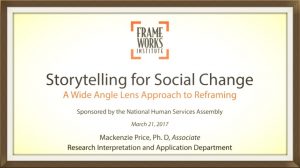 In Storytelling for Social Change: A Wide Angle Lens Approach to Reframing (password: nhsa), a recent webinar conducted on the National Assembly's behalf, Mackenzie Price of the FrameWorks Institute provided helpful guidance on how to include personal stories without cuing up unproductive misconceptions about human services. In particular, examples of individuals in our communications should contribute to telling a thematic story, one that helps the audience see the broader trends, systems, and solutions, rather than focusing narrowly on an individual's actions or challenges. Using examples of personal stories that we collected from the field, FrameWorks walks through specific strategies for reframing the stories so that they cultivate in the audience a deeper understanding of what human services are, how they work, and how we all benefit from the solutions that our communications are promoting.
We're excited to make this free 90 minute webinar (password: nhsa) available to the entire Reframing Network, and we hope it inspires all of us to transform our stories.