Reframing
newsletter
Building Well-Being: How to Use the New Frame
January 11, 2016
After several years of rigorous research conducted by the FrameWorks Institute, we now have an overarching story that we know significantly improves the public's understanding of what human services are and why they are important. We call it the Building Well-Being Narrative.
If you missed our webinar unveiling the Building Well-Being Narrative, you can watch it online.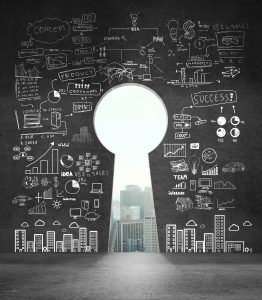 This new framework:
Establishes why an issue matters to society by invoking a widely-held value that connects people to the issue in a productive way.
Uses explanatory techniques such as metaphors an examples to fill in public thinking on an issue, making expert assumptions accessible to the ordinary person.
FrameWorks Institute's research shows that the frame elements should be used together as a complete Narrative, as shown here, in order to see the full benefits of the reframing.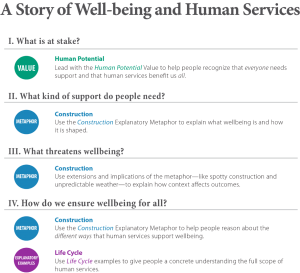 REMEMBER… The power of the new narrative is greatest when its use is ubiquitous and consistent. Together, we can use these concrete, actionable tools to establish a collective and resonate voice that clearly articulates the value of the human services sector and ensure that everyone thrives across generations and circumstance.
Reframing Message Cards
We know you're eager to start implementing the Building Well-Being Narrative. To help prepare you for this shift in communications, we're throwing the "spotlight" on FrameWorks' Message Cards. The Message Cards (which can also be found in the Reframing Toolkit) provide quick guidance on using the Value and Metaphor elements of the new frame.
Message Card: The Value of Human Potential