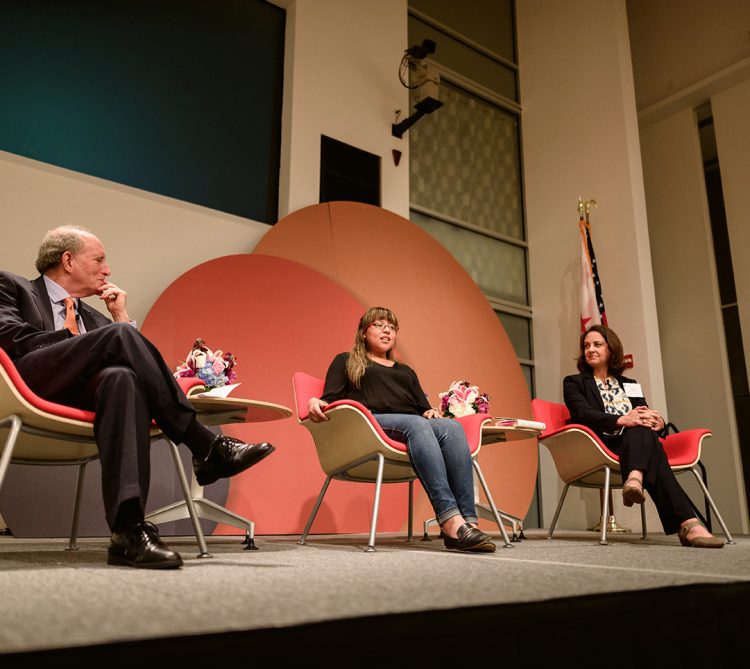 general
news
Highlights from Essential Conversations on Human Services
June 21, 2018
The events of the past year have made the important conversations we had last week at our 2018 Annual Convening more timely than ever. Sometimes conversations on immigration, youth activism, gun control, equity, the state of our sector, and the need for factual-based information in politics are difficult to have, but we know they are essential to building the well-being of our society. Each of us has a role to play in these conversations, both professionally and personally, and those in attendance did not disappoint. The turnout we saw on Wednesday reinforced the ongoing commitment of our members and the sector to addressing key issues in human services.
We were moved listening to Laura Wides-Muñoz's account of her journey from a journalist reporting on immigration issues to an author raising the stories of five immigrants, and hearing first-hand the emotional story of Hareth Andrade-Ayala as she came to the country as a young girl leaving her parents behind. As Laura's keynote address and book, The Making of a Dream: How a Group of Young Undocumented Immigrants Helped Change What It Means to Be American, highlighted—Immigration is an important issue that affects us all. And perhaps more astutely, Laura elevated the idea that we don't all have to share the same opinions to arrive at bipartisan solutions to immigration that fulfill both the temporary and long-terms needs of our communities. The stories in Laura's book are compelling evidence that helping all individuals to reach their full potential empowers our communities to grow and succeed as a nation.
Thank you to our generous sponsors, supportive board of directors, and talented panelists and presenters for making the day a huge success. A special thanks goes to our Board Chair Susan Danish, Executive Director at the Association of Junior Leagues International, for leading the meeting. And thank you again to those that were able to join us at this year's Annual Convening, both to celebrate our past work and to inspire us for the work to come.
A photo album of the event is available for you to view, and we have overviews of two of the breakout sessions posted online. Read more about Supporting Youth-Led Movements and Reaching Sound Policy Choices in a Post-Factual Political Culture.