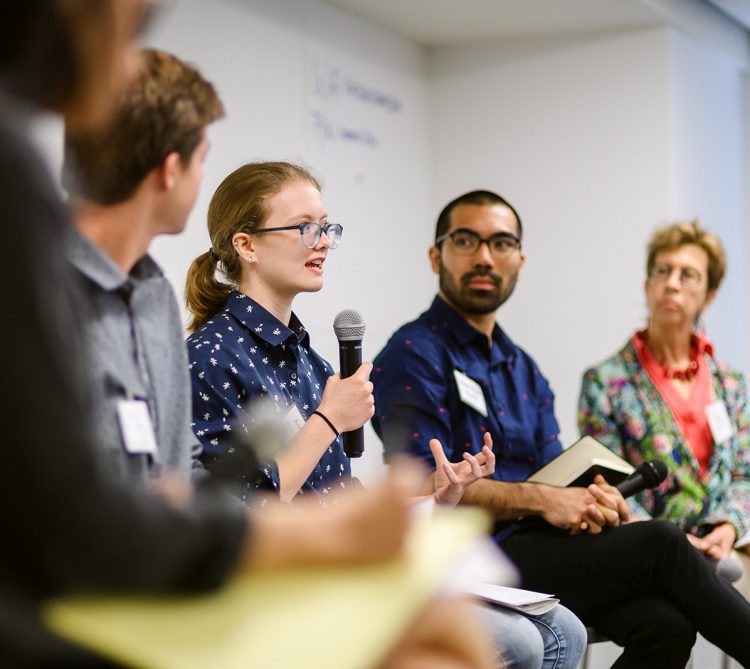 public-policy
article
Supporting Youth-Led Movements
June 21, 2018
By Marie Camino
Our annual convening last Wednesday was committed to exploring essential conversations that the human services sector should be having. One such conversation, was, if you've been watching the news at all, very timely. The rise of the gun control movement, and the success of the Parkland students in particular is something to be reckoned with. One of the main pillars of their success is that they own their message completely. They rely on adult resources but do not allow adults to guide their conversation in the least. However, the presence of youth activists in our communities is not new, and their voices should have always been amplified. In our "Supporting Youth-Led Movements" session, we asked student activists and adults who work with them what resources they may need, how we as community actors can provide them, and how to do so without overtaking their mission.
To gain these insights, we invited two environmentalist youth activists from Montgomery County, Anna Brookes and Leo Blaine, to have a conversation with the adults who work with them and provide them resources. Leo and Anna have been activists since becoming involved in a group called the Young Activists Club. The club's work included successfully lobbying for a ban on Styrofoam trays in Takoma Park and Montgomery County, MD. These trays were replaced with sustainable alternatives. Most recently, they planned a day-long summit for youth to discuss climate change and advocacy.
Our adult allies in the conversation included Wendy Schaetzel Lesko, who founded the Youth Activism Project in 2004, and currently serves as it's president. She is a nationally recognized expert on authentic youth civic engagement. Check out her TEDx Youth talk here.
We were also joined by Ikaika Regidor (pronouns: they/he), who is currently the Director of Education and Youth Programs at GLSEN. GLSEN is an organization recognized worldwide as an innovative thought leader in the education, youth development and civil rights sectors fighting to end bias-based bullying, violence and discrimination in primary and secondary schools, and promote a culture of true respect for all. Ikaika currently leads the organization's strategy around youth and educator programming, including student organizing, Gay-Straight Alliance (GSA) capacity building, youth leadership, educator professional development and LGBTQ-inclusive, intersectional curriculum development.
Youths' Take on Activism
To gain some context into the experiences of a student activist, I asked Leo and Anna about their history. What does it mean to them as long-time activists to see their peers succeeding, particularly in the Parkland case? What are some of the most helpful things adults have already done for them? How have they been treated by older activists when collaborating?
Leo voiced that the attention and validity given to youth activists as of late, and the visibility of the Parkland students has pushed him to ask, "why can't we do this too?" After all, it is today's youth that will experience many of the effects of environmental issues. The goal is to help everyone understand the interdisciplinary aspects of climate change and amplify the voice of environmental youth activists in the same way activists on other issues have been successful.
Anna noted that the success of the gun control movement has made her feel empowered. Her peers are, understandably, angry that other teens are being massacred at school. They are anxious about the fact that they could easily be next. The March for Our Lives, and the movement more broadly has made her think, "hey, there is something we can do about this."
Thus far in Leo and Anna's activism, resources, feedback, and expertise from their adult allies have been most helpful. The venue for their Climate Summit cost money, which is always a badly needed resource. Sometimes they just need someone with a driver's license to take them somewhere. In organizing, they almost always require the community connections that adults may have. The most appreciated help they've received is the kind that involves lending a hand without stepping in and taking over. Anna characterized this best when she said the relationship between youth activist and adult ally should be more equal, instead of a paternalistic, "camp counselor" relationship.
As far as their experiences with older activists go, Anna and Leo both expressed facing dismissive attitudes from some adults toward youth and the new ideas they tried to bring to the table. During their climate summit, Leo mentioned that many of the older activists failed to recognize the more nuanced aspects of climate change. The group of adult volunteers were not very diverse and failed to recognize that climate change is not only about "saving the polar bears," but is a "human rights and social justice issue" as well. Things like environmental racism, for example, were not considered. Anna and Leo both stated a need for adult allies that are open to new perspectives and ideas.
Insights from Adult Allies
As for the adult allies in the room, I wanted to get a better sense of what they do to ensure that the activists they work with always stay front and center, as well as some of the most common challenges they face in doing so.
To make youth-adult partnerships more equal and enriching for everyone, Wendy recommended utilizing an activist playbook written by students themselves and finding ways to incorporate youth into the everyday work that goes into activism. An organization that does this very well is Youth Powered Solutions, based in Raleigh, NC. Youth Empowered Solutions pays high school students to work in the organization part-time, and more than half of their staff is made up of these students. This model not only brings youth into the planning itself, but it allows low-income students who would not typically be able to volunteer their time for free to have their voices elevated.
Ikaika gave some insight into how GLSEN builds asking for feedback into their campaigns. Taking the time to speak with the youth who organize their Days of Action and explicitly ask what resources they need more of has been pivotal. Likewise, it is not only important to ask, but to really listen to criticisms that students may have and to be transparent with them. Overall, just having an open and equal dialogue where it is clear that students are truly being heard has helped GLSEN become a better ally to students.
As far as common challenges go, there seemed to be a consensus between Wendy and Ikaika that time and capacity are the most prevalent trials in their allyship. Youth are very busy. They often have to balance a full school schedule, participate in extracurricular activities, hone a social life, and more. Wendy mentioned that she would like more time with youth to meaningfully talk about the issues they care about, and to figure out how to best work with them. Her ability to build relationships with young activists can sometimes be hindered by their unforgiving schedules.
Along this same vein, Ikaika voiced that activism can sometimes be time sensitive, but it may be difficult for youth to organize in a timely manner. This presents a challenge because organizations cannot hand out deadlines to students. They noted that, sometimes, "we've lost the plot," because language has changed and content may already be out of date by the time youth are prepared to activate. Capacity is also a struggle. Activists really benefit from spaces that make them feel safe, and that is a resource that organizations can provide.
The availability of safe spaces can be particularly helpful to LGBTQ+ activists. They may live in communities that do not have many queer folks. In a climate where their very existence may be undermined, it is extremely valuable to have a space where someone will use their preferred pronouns and help them feel comfortable with who they are, overall. They may not otherwise get this in school or at home.
Leo also spoke to the issue of time and capacity when he mentioned using his environmental science teacher as a resource. She has been extremely helpful to young activists at his high school, but many students come to her, and she is only one person. There is a need for more adults from the community to step up and offer their time.
Making Change Happen
Finally, I wanted to know more about Anna and Leo's current activism. What approaches do they use, how do they rally their peers, what are they doing next, and what resources do they need for that?
Anna and Leo described their approach to activism as "interdisciplinary." Climate change does not exist in a vacuum, so they described their involvement in other spaces as imperative to their mission. Anna recently attended a Black Lives Matter protest in Silver Spring, gun control advocates attended their climate summit, and they all participated in the recent student walkout. Collaboration between all of these movements is key.
To ensure that their peers get involved and stay involved, Leo cited the need to set a clear goal and maintain momentum, since people generally lose interest quickly. It also doesn't hurt to provide free food at your events. Anna voiced the need to manage expectations and make it clear that peers are welcome to invest as much or as little of their time as they want.
Anna and Leo are planning another Climate Summit next year. They cited the need for a venue, funds to cover venue costs, and personal connections to experts and other resources. In particular, they need press contacts to help spread the word.
To get in touch with them about contributing to next year's Climate Summit, contact Marie Camino at mcamino@nassembly.org.
What You Can Do Next
The insights provided in this conversation were tremendously valuable, but this is not the end of the dialogue. I encourage adult allies to recognize that different demographics of young activists have different needs and experiences. Go into your community and ask students of color what they need. Ask disabled, LGBTQ+, and students of different socioeconomic statuses what they need. Give whatever you can but do so with an open heart and mind. All youth voices deserve to be respected and uplifted.