Reframing
newsletter
Getting Started with the Building Well-Being Narrative
February 8, 2018
As promised in the January Resolve to Reframe newsletter, we're offering practical strategies and manageable steps to guide organizations in embedding the Building Well-Being Narrative into communications and culture with the goal of improving the audience's understanding of how human services meet community needs with effective solutions.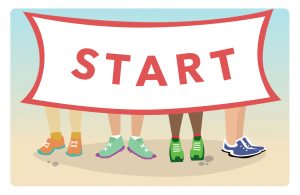 Where Do We Start with Reframing?
A good starting place when considering how to implement reframing is to identify language that is the foundational content of your organization's external communications — standard text that is used repeatedly online and in print to uniformly communicate the organization's objective and strategies. Examples include: "About Us" language, mission statements, and programs and services descriptions that are included in materials directed at all community stakeholders, such as brochures for the general public, proposals/letters to funders/donors, and messaging to policymakers.
Prioritize these communications for reframing, considering factors such as volume and frequency of use, potential for impact, organization needs, and staff and resource capacity.
How Do We Start with Reframing?
A helpful process is to begin by reviewing and analyzing these main communications as currently drafted, asking the below "what works" and "what doesn't" questions. As you do that, don't think like the expert you are, but like the audience you're trying to reach. Ask yourself the following questions:
Does this communication use the below reframing techniques to illustrate your mission, programs, and services so that audiences will understand and support them?
The Value of Human Potential to explain first why what you do matters to your community (everyone needs support to reach their potential; we help people reach their potential and contribute to their communities);
The Construction Metaphor to explain how your organization fosters that potential (well-being is built by a team, over time; rests on planning, prevention and maintenance; can be negatively impacted by shaky foundations, missing materials, life's storms); and
Life Cycle Examples to normalize and expand understanding of who may need to access services, as well as benefits to the whole community so we can all contribute fully to our community, not just individuals.
Does this communication use language that could evoke unproductive perceptions that currently dominate public thinking about human services?
Avoid alienating terms like "vulnerable" and "needy" that can exacerbate beliefs that human services are for other people, rather than solutions we all benefit from.
Avoid using language, data, or a tone that sets up the challenges your organization is addressing as a crisis for the people you serve or for the community. Instead, rely on an explanatory tone and emphasize your solutions.
Avoid jargon or short-hand that the sector understands, but people outside it don't, which can lead to misunderstanding of needs and services. In its place, use plain language and context to demonstrate the community benefits of services so people can visualize them and don't come to their own conclusion about them.
How Do We Put Reframing into Practice?
Our partners at Caritas of Austin generously allowed us to offer the below before and after results from theirrecent reframing of their About Us statement. We explain below some of the benefits of the new message.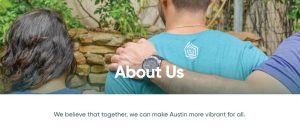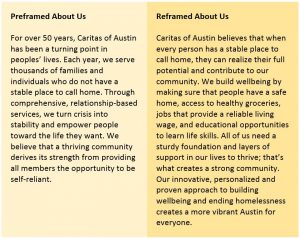 Caritas of Austin achieved advantages in its reframed About Us statement by:
Connecting stable homes and human potential,
Relating human potential to community benefits,
Emphasizing well-being and services that help achieve it,
Adopting the construction metaphor with "sturdy foundation" and "layers of support,"
Shifting focus from individuals to all people throughout,
Removing jargon (e.g., "relationship-based services"), and
Omitting value-based terms (e.g., "self-reliant").
We'll be posting additional annotated preframed and reframed examples soon and will let you know when we do. In the meantime, we encourage you to submit questions, share tips, and send your preframed and reframed communications. Please email Bridget Gavaghan, Director of the National Reframing Initiative.