Reframing
newsletter
A 2018 Reframing Wrap Up
December 13, 2018
2018 has been an exciting year for the National Reframing Initiative, and we're gearing up to make sure 2019 is too! Here's a recap of just some of our 2018 highlights that you and other national, state, and local human service organizations across the country made happen.
Implementation Highlights
The National Human Services Assembly developed resources and messages for advocates to use in high priority public policy debates, including immigration, federal and state budgets, and proposed changes to federal human service programs. We also welcomed new partners and celebrated others' achievements:
Network Mobilization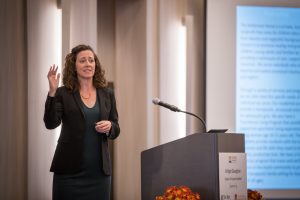 The National Reframing Initiative Team had a great year engaging with our growing network through outreach and mobilization efforts around the country:
NHSA's Reframing Team led a total of 35 workshops, webinars, and presentations in communities across the country, attracting over 2,100 participants during the year. We conducted workshops and presentations at conferences and summits for a number of national networks, including CenterLink, Goodwill Industries, the National Child Support Enforcement Association, and Nonprofit Leadership Alliance. We also partnered with state and local organizations to conduct trainings targeted to the needs of specific communities, including in California, Colorado, Illinois, Indiana, New York, and Ohio.
The Reframing Network newsletter list continues to grow, with over 2,100 human service professionals receiving biweekly tips and resources on reframing human services.
In the Media
The National Reframing Initiative was highlighted in, and contributed to, prominent nonprofit and philanthropic platforms, including:
Together, we made real progress in 2018 shifting the public's understanding of human services. We look forward to even more reframing successes next year. Stay tuned for exciting developments in 2019 and in the meantime we wish you the most joyous of holiday seasons!
SPOTLIGHT
Generations United (GU) recently released a brief, "Frames that Inform Intergenerational Work," by GU Senior Fellow and former NHSA CEO, Irv Katz, and GU Associate, Danica Derriennic. The brief's objective is to assist intergenerational thinkers and practitioner s in applying to their field common, relevant elements of FrameWorks Institute research on early childhood development, child and youth development, human services, and aging. The brief points out that the human services building well-being metaphor is appropriate for intergenerational approaches and populations that, along with other reframing elements, can be used "to increase understanding of intergenerational strategies."