Reframing
newsletter
Reframing Partner HealthStart Shows Us How It's Done
November 29, 2018
It's the time of year to catalogue annual communications, development and policy accomplishments! To guide you going forward in embedding the Building Well-Being Narrative into messaging—with the goal of achieving even more successes in 2019—in this newsletter issue, we offer a practical example with HealthStart Foundation—one of the National Reframing Initiative's local partners in Austin. HealthStart is improving audiences' understanding of how its human services meet community needs with effective solutions.
Incorporating the Building Well-Being Narrative into Website Content
HealthStart Foundation has been thoughtful and intentional about applying reframing to its core messaging, including on its website. We take a look at some of its website's reframed language below.
HealthStart is dedicated to "teaching our kids good health habits early on" to "create a healthier future for our communities." It consistently uses this forward-looking language throughout its website indicating the program benefits for whole communities versus specific subgroups. Beginning right with its homepage, HealthStart explains it is creating agents of change for a healthier future for our communities, and it also introduces the Construction Metaphor explaining it educates by "providing the tools to teach young children how to be healthy their whole lives" and empowers by "giving parents the materials to lay a strong foundation for family well-being."
HealthStart continues the construction theme through its mission: "To provide the blueprints for building healthier communities through children's science-based health education." Similarly, its Program Overview explains its services are based on its five core tenet approach, again using foundation, materials, tools, building, and communities language to explain how its programs create well-being for all.
Putting Reframing into Practice with About Us Language
To show a concrete example of how they made the transition, HealthStart generously allowed us to share the below before and after results from their recent reframing of their About Us statement and we explain some of the changes and benefits of the new messages.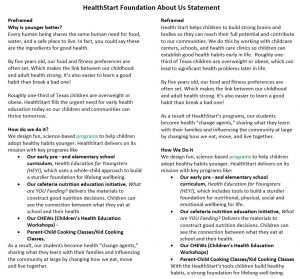 HealthStart achieved advantages in its reframed About Us statement by:
HealthStart helps children to build strong brains and bodies so they can reach their full potential and contribute to our communities.
Maintaining the Construction Metaphor throughout the introduction and program description, using terms such as build, establish, tools, materials, foundation, and construct;
Early pre – and elementary school curriculum, Health Education for Youngsters (HEY!), which includes tools to build a sturdier foundation for nutritional, physical, social and emotional wellbeing for life.
Emphasizing a holistic definition of well-being as being "nutritional, physical, social and emotional" and drawing clear connections between well-being and its programs;
Invoking the Life Cycle throughout by associating childhood obesity with "health problems later in life," one program with "wellbeing for life," and all programs to "a strong foundation for lifelong wellbeing"; and
Removing crisis language ("urgent need") and eliminating jargon ("whole-child approach") to keep people engaged and focused on the solutions.
We encourage you to submit questions and send your preframed and reframed communications to Bridget Gavaghan, Director of the National Reframing Initiative.