Reframing
newsletter
The Annie E. Casey Foundation Maximizes Reframing Impact with Press Releases
July 11, 2019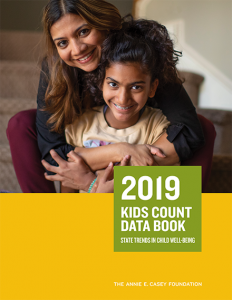 As we noted in the last newsletter's Spotlight, The Annie E. Casey Foundation (AECF) recently published its "2019 KIDS COUNT Data Book: State Trends in Child Well-Being" covering child health, education, family and community, and economic well-being indicators at the national and state levels. AECF "is devoted to developing a brighter future for millions of children at risk of poor educational, economic, social and health outcomes" and was an early and generous funder of the National Reframing Initiative.
Published annually for the last thirty years, "KIDS COUNT provides legislators, public officials and child advocates with reliable data, policy recommendations and tools to advance policies that benefit children." In presenting the wealth of data, the 2019 report and press release use several reframing strategies. For instance, the KIDS COUNT press release does a nice job of summarizing the report's main points by taking a page from the reframing playbook in describing:
What's at stake? The first paragraph of the press release uses the Value of Human Potential to establish why the public should care about child well-being.
What does it take? The release explains "we have the data, knowledge and evidence to create the policies that will help them realize [unlimited potential]."
What gets in the way? A practical and explanatory tone notes how child well-being can be disrupted by factors such as poverty, lack of health insurance and low birth weight.
What is the scope of the challenge? The data in the release are interpreted and placed into context, providing the public with a productive understanding of obstacles to well-being.
What can we do about it? Rather than leaving its audience feeling overwhelmed by the scope of the problems, the report identifies specific policy solutions — such as expanding access to Medicaid — to address the key challenges.
AECF's KIDS COUNT state partners also consistently relied on reframing in their state-specific KIDS COUNT Report press releases. The value of applying reframing language and strategies in the press releases becomes clear in reviewing local news stories that echo the report's findings for specific states. The media uptake of release language and the consistency of its messages are apparent. Like the releases, local media outlets' articles about the report:
Some articles even use the terms full potential and thrive. The press releases and resulting media coverage that mimic the releases are a testament to the importance and value of crafting a well-framed press release.