general
newsletter
Opposing Radical Evil – Message From the CEO
August 30, 2018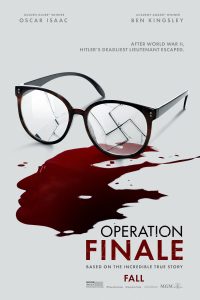 Last week, I had the opportunity to see a preview screening of Operation Finale, a film depicting the capture of Nazi war criminal Adolf Eichmann in Argentina in 1960. A number of Holocaust survivors were in the audience with me. Most of the audience were of an age to have vivid memories of the capture of Eichmann and his subsequent trial in Israel.
Although Operation Finale is a fictionalized account of these historical events, the core facts are rendered accurately and the depiction of the internal tensions of the Israeli agents who orchestrated the capture is presented with the nuance and emotional energy that it deserves. Imagine being a young Israeli fifteen years after the end of World War II, most likely born in Europe and having lost most of your family to the Nazi death machine, and you are given the assignment to bring Adolf Eichmann, the architect of the Final Solution, to Israel for a trial. And, an unrepentant Eichmann at that. What is your reaction to being in the presence of that evil? How much do you want to escort the perpetrator to his trial or find another remedy?
After the film presentation, there was a brief discussion with the audience led by a historian of the Holocaust. Given that this movie makes some aesthetic decisions in the way that it presents the Eichmann capture (some changes of actual participants to the depicted characters; created dialogue to capture the tension and emotion), how important is it for people to see this movie? As one Holocaust survivor in the audience responded: "Whether it is 100% historically accurate is not as important as ensuring that present and future generations do not forget what happened during the Holocaust, as we are always in danger of succumbing to the consequences of evil." Go see Operation Finale and challenge yourself to overcome the evil around us while maintaining your civility.
Lee Sherman, President & CEO