Initiatives
resource
Leadership Resources on Race and Equity
November 24, 2020
This year has been a pivotal time in our history. It has called upon our sector's leaders to confront an abundance of racism, equity, diversity, inclusion, and other issues heightened by the COVID-19 Pandemic and recent acts of police brutality. ProInspire and Building Movement Project have both advanced their work in these areas during unprecedented times, developing tools for nonprofit leadership.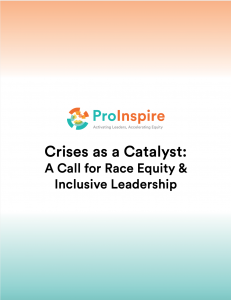 ProInspire released, "Crises as a Catalyst: A Call for Race Equity & Inclusive Leadership," a reflective tool for individuals and organizations to advance race equity and inclusive leadership during crises. This tool is based on internal ongoing research and feedback from a wide circle of colleagues formed to create the full Leadership Guide, focused on inclusive leadership practices that support race equity. The tool includes questions to support both individual reflection and team discussions, and highlights some of the additional consequential considerations that leaders of color face during times of crisis.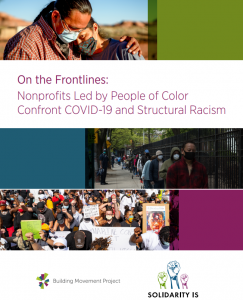 Building Movement Project (BMP) released, "On the Frontlines: Nonprofits Led by People of Color Confront COVID-19 and Structural Racism," a report focusing on how 2020's social upheavals are affecting nonprofit organizations led by people of color and their communities, programs, leadership, and financial sustainability. The key findings shed a light on the current environment, indicating that: the crisis can get worse, we must unite to end racism, nonprofits are pivoting in big ways to fill gaps, female leaders of color are experiencing an immense toll, and the timing is right for systemic change.