Reframing
newsletter
Health Care Bill Disrupts Collective Well-Being
May 18, 2017
On May 4, the House passed a health care bill that would, among other things, cut Medicaid by $880 billion and remove important protections for people with pre-existing conditions. Advocates across the country are working hard to convince their Senators to reject the House bill and to urge Representatives who voted for the bill to reconsider their support.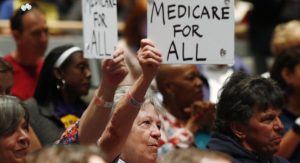 In our April 20th Reframing Network Newsletter, we talked about how important it is for our communications to emphasize the societal impacts of health and human services and policies, rather than narrowly focusing on the benefits or consequences to individuals. In the current health care debate, that means explaining how the proposed cuts to Medicaid and changes to pre-existing condition protections would disrupt the collective health and well-being of our communities.
As part of their work on reframing aging in America, our partners at FrameWorks Institute created new examples demonstrating how advocates can provide policymakers and the public with a more complete understanding of what the House-passed health care bill will mean for all of us if enacted. Please feel free to use this language in your advocacy efforts. Thank you to Julie Sweetland from the FrameWorks Institute for sharing these examples with us.
Reframing Example #1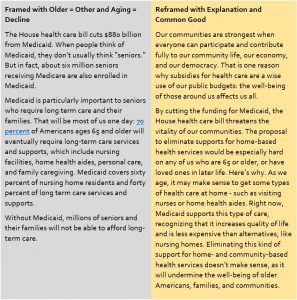 Reframing Example #2