Reframing
newsletter
FrameWorks Institute Reframes "Two-Generation" Approach
September 19, 2019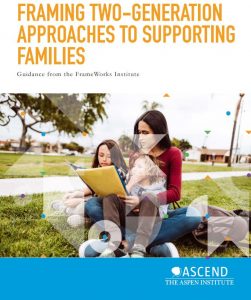 Our friends at the FrameWorks Institute recently released a new playbook, "Framing Two-Generation Approaches To Supporting Families," that offers guidance on how to effectively communicate the value of "two-generation" or "whole family" approaches. The two-generation, or 2Gen, concept is designed to ensure that work with families pays equal, intentional efforts to build the well-being of children and the adults in their lives, together. It depends on the more strategic use of funds for program areas such as early learning, education, employment, health, housing, income supplements, and nutrition.
The 2Gen frame aligns well with the human services Building Well-Being Narrative. For instance, both lead with the value of human potential to preclude the public from defaulting to "us" versus "them" postures and instead prompt a "we" approach. It also relies on the construction metaphor, including the team effort to building well-being, so that people understand the varied and holistic supports that are needed to enable everyone to thrive.
Starting from a recommendation for a major frame shift – from a narrow focus on service delivery common in 2Gen communications to a broader narrative about human development – the playbook offers ten specific ways to make that shift in everyday outreach and messaging. The service delivery frame unproductively cues the system as one of givers and takers and worthy and unworthy. By contrast,
"a human development frame advances the idea that people grow and change over their lives, in an ongoing process shaped by environments and experiences. It establishes that society has a role and a stake in ensuring that the vital conditions for optimal development are available to all, not just some, across the various stages of development. This frame elaborates a robust vision of what constitutes well-being, articulating the multiple factors that contribute to families that are 'doing well.'"
For each recommendation offered, from addressing equity while warding off fatalism that the problem of inequity is too large and complex to solve, to advocating for systems change without activating views of an inept government not up to the challenge, FrameWorks helpfully provides explanations of What Makes It Hard to Get This Idea Across, What Reframing Needs to Accomplish, What Helps and concrete examples of messages that incorporate the guidance. The recommendations are clear and concise and a "must read" for human service advocates, communicators, and allies.
In developing its 2Gen recommendations, FrameWorks relied on prior human service research, conducted on behalf of the National Human Services Assembly, as well as its research on early childhood development, education, and implementation science.
Framing recommendations on two-generation approaches to children and family services were developed by FrameWorks Institute and Ascend at the Aspen Institute, with funding from the David and Lucile Packard Foundation and The Annie E. Casey Foundation.
SPOTLIGHT: NHSA Looks at Two-Generation State-Level Implementation
The National Human Services Assembly's 2016 report, "The Two-Generation Approach Framework: A Closer Look at State-Level Implementation," explores how Colorado, Connecticut, and Utah developed and implemented a 2Gen framework in their human service programs. The report identifies policy opportunities, challenges, and lessons learned, as well as key findings from interviews with state and local stakeholders to gain a deeper understanding of the policies, systems, and structures supporting the 2Gen approach. The report was funded by The Annie E. Casey Foundation. Read the Executive Summary.