Reframing
newsletter
FrameWorks Institute Encourages Communicators to Harness the Power of Explanation
April 18, 2019
For its 20th anniversary, our friends at the FrameWorks Institute released "Unleashing the Power of How: An Explanation Declaration" that shows why explanation is important, presents how communicators can benefit from using it, and provides useful tools. This newsletter issue provides some key takeaways from the publication to help human service organizations effectively integrate explanations into their communications.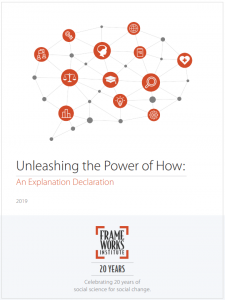 Explanations explicitly demonstrate how a cause leads to its effect, and therefore impacts how we think about solutions. If we omit the cause of a social challenge, people will default to inaccurate cultural models, or cognitive shortcuts. For instance, if they think individuals are responsible for their problems, they see them as responsible for solving their own problems, versus understanding systemic causes and public policy solutions. In contrast, FrameWorks notes that "By specifying what leads to what, and to what end — the process that connects causes to outcomes — communicators help the public understand the root causes of problems, recognize broader impacts, and see why certain solutions lead to meaningful change."
To take advantage of the way the mind works, and engage people in thinking about explanations, communicators need to craft messages that inspire "thoughtful consideration," instead of call to mind prevailing "ways of thinking," through "superficial" explanations. By giving the public enough solid, thought-provoking information, the former strategy allows explanations the potential to fulfill their goal of getting people to think more constructively. They can do this by deepening productive thinking that is shallow, bringing to mind useful but untapped ways of thinking, and addressing cognitive holes.
FrameWorks provides the below three evidence-based tools for explanation that "hav[e] demonstrated the power to help people connect social problems to meaningful collective solutions." The publication offers useful examples of each through the lens of affordable housing on pages 10-11.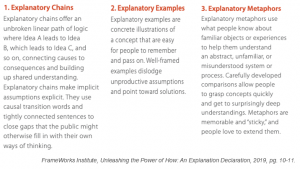 As FrameWorks has shown us in the human service context, we can use the three explanatory tools in the following ways.
Explanatory Chains show systemic drivers of social challenges—and thus point the way to systemic policy solutions—so the public doesn't rely on faulty assumptions such as individual responsibility. For example, FrameWorks uses an explanatory chain to place one person's story into the broader context of what healthy, stable housing means for all and to provide a deeper explanation of how the human service organization fosters community well-being. Explanatory chains also are helpful in illustrating context when using data by giving the big picture, providing the necessary mediating factors, and ending with the consequence.
Explanatory Examples that come from across the Life Cycle illustrate and spur engagement by explaining and normalizing how human services support well-being throughout people's lives and thus reframe the assumption that human services should be temporary.
The Explanatory Metaphor of Construction expands the frame for human services by connecting human services to a concrete, familiar example that explains what well-being is and how it's created with human services, as well as what can threaten it, connecting context with outcomes.
FrameWorks urges communicators to integrate explanation into their thematic narratives to show how social conditions originate and how collective action can create change. Explanation acts as the how that connects the why of values with the what of solutions.
In addition to these strategies, don't forget to rely on an explanatory, reasonable, and practical tone and emphasize your solutions.
SPOTLIGHT: Alliance for Strong Families and Communities Op-Ed
A well-framed op-ed by Ilana Levinson, senior director of government relations for the Alliance for Strong Families and Communities, in the April 2, 2019 edition of The Hill asserts that the Trump administration's 2020 budget cuts to human service programs will hurt children, families, and communities. "Proposed budget cuts prioritize border security over American families and communities" uses the value of human potential, construction metaphor, and life cycle to make the case for supporting everyone's well-being. Framing language includes "we all thrive and economies flourish when everyone can reach their full potential," "a strong foundation that enables them to thrive," "essential building blocks for that foundation," and "across the lifespan."