Reframing
newsletter
Family Services of Winston-Salem, NC: Reframing Success Builds on Success
May 30, 2019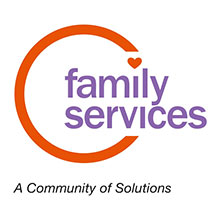 We're excited to share another reframing example from the field, this time from the Southeast. Family Services in Winston-Salem, NC, an Alliance for Strong Families and Communities (Alliance) member founded in 1905, serves Forsyth County. Through partnerships with community agencies, Family Services provides child development and domestic and family violence services, among others. Its vision is the "community working together to ensure that all families and children are safe, secure and able to reach their full potential."
We spoke with Bob Feikema, President & CEO, about his experience bringing reframing to Family Services. Feikema's background in reframing broadly speaking originated with asset-based, solutions-focused community development of the early 1990s, in contrast to the historical deficit focus of human services. He incorporated that strengths-based perspective into his work even before he was with Family Services. He also became familiar with FrameWorks Institute's work reframing child abuse prevention. More recently, while President & CEO of Family Services, he attended a couple of National Reframing Initiative workshops at Alliance conferences. He came back to the office and shared the Building Well-Being Narrative PowerPoint presentation with staff at a formal kick off. Staff took to it readily, thought it made good sense, and began to practice it consistently. The Board also recognized that using positive language prevented potential donors from feeling hopeless.
Chief Development and Public Relations Officer, Michelle Speas, developed materials so reframing was incorporated into the overall communications strategy. It has become a regular, consistent practice for Family Services, with success building on success. Reframing terms such as build, potential, and thrive are used throughout the website and in its Mission Statement ("build a sustainable community"), About Us language ("build a healthier, more stable community; and build a better future for all of us"), and Vision, as noted above.
Raising Every Child Campaign
Family Services used reframing in its recent Raising Every Child Campaign for quality early childhood development programs to "improve the physical, social and emotional health of 1,500 young children annually" so "children from birth through age five are ready to achieve in school and succeed in life." The campaign materials emphasize full potential, strong communities, and shared prosperity.
We selected a sampling of some of the best and most creative Building Well-Being Narrative language to share with you from campaign collateral, including its case for support, infographics, and a campaign edition of the agency newsletter:
"Raising Every Child contributes to building a better future for our community."
"[O]ur community's future economic vitality and social well-being depend upon the success of every child."
"Too few of our community's children receive a solid foundation for success."
"Every child has an inherent right to reach his or her potential."
"Children aren't born with the skills to succeed. They're born with the potential to develop them."
"[W]e must come together as never before to expand these powerful, proven solutions so that more children and families can thrive."
"Your support of Family Services is building a more sustainable community and ensuring the vitality of Forsyth County."
"When you invest in Family Services, you are creating a foundation for positive early experiences that help elevate the architecture of a child's development, and his or her future."
The materials also rely on brain science and reference brain architecture, as FrameWorks Institute advises for early childhood development communications:
"The first five years of life are a time of rapid brain development, and the architecture of the brain is largely developed during those years, establishing the foundation for success in later life."
"Studies show that the first five years of a child's life are a time of rapid brain development – a once-only window of opportunity when a child's mind becomes wired for success (or hardship) that will last into adulthood."
Feikema credited reframing with contributing to the success of the campaign—which reached its $3.75 million goal and significantly increased the number of leadership givers donating $1,000 or more—and other development efforts. He also explained the "campaign does not stand alone as a shining example of reframing; it is dependent on a commitment to and the consistent exercise of this kind of messaging across the board. And that, in turn, depends on offering the kinds of programs and initiatives that embody and exemplify the reframed messaging."
Family Services has received positive feedback from stakeholders about their reframed materials, including from Susan Dreyfus, President and CEO of the Alliance for Strong Families and Communities.
Family Services is undertaking two new community-wide initiatives—to provide universal pre-K and establish a Family Justice Center, a one-stop shop for victims' assistance—that offer plenty of opportunities to use building, potential, thriving, and community responsibility in messaging. The organizations that Family Services is working with to bring these two initiatives to fruition are willing subscribers to reframing communications. In line with reframing guidance, Feikema cautions that while having voices of program participants is effective in shifting attitudes about stereotypical "bad parents" and victims to gain support, it's important to balance the individual case with the broader picture and context, so people don't default to "if she did it, anyone can."