Reframing
newsletter
Balancing Challenges with Solutions
November 2, 2017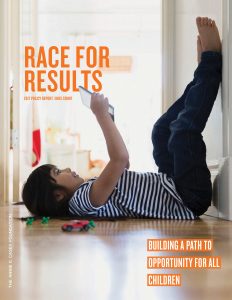 Last week, the Annie E. Casey Foundation released "Race for Results", a KIDS COUNT report that examines childhood outcomes across key indicators of economic, physical, emotional, and developmental well-being. The report found that children of color and immigrant children face particularly significant barriers to meeting key milestones for well-being. Those barriers, such as living in poverty or having limited access to educational opportunities, can make it difficult for children to reach their full potential.
In previous newsletters (May 26, 2016 and February 9, 2017), we've talked about how important it is to convey to the public that there are things that we can do together to address the challenges we face in our communities. The 2017 Race for Results Report does this quite effectively in several ways that we think would be useful to examine.
"For America to reach its full economic, democratic and moral potential, all children must have the opportunity to grow, develop and thrive. We know what children need: strong families; environments that support healthy early brain development; and the opportunity to develop social and emotional skills. We know from decades of work in foster care and juvenile justice that children have a better chance to succeed when families stay together. And we know children need financial stability, which requires an inclusive economy that allows parents to secure meaningful work; to earn a stable and adequate income; to build assets and savings; and to balance work and family responsibilities."

Excerpt from: "Race for Results: 2017 Policy Report," Annie E. Casey Foundation.
What's at stake? The first paragraph of the report (excerpt above) uses the Value of Human Potential to establish why the public should care about child well-being.
What does it take? After establishing why the public should care about child well-being, the introductory paragraph provides clear and relatable examples of things that all children need to thrive.
What gets in the way? The practical and explanatory tone established in the introduction is maintained as the report walks through how child well-being can be disrupted.
What is the scope of the challenge? The data in the report is interpreted and placed into context, providing the public with a productive understanding of why children of color and immigrant children are more likely to experience poor outcomes related to well-being.
What can we do about it? Rather than leaving the audience feeling overwhelmed by the scope of the problem, the report identifies specific solutions that are ready to be implemented in order to address the key challenges identified in the report.
Download the report and find out more about the Annie E. Casey Foundation's Race for Results Report Series online.