Reframing
newsletter
Illinois Collaboration on Youth Offers Well-Framed Budget Statement
June 27, 2019
With many state legislative sessions having recently closed or coming to a close, we thought it would be timely to share the Illinois Collaboration on Youth's (ICOY) nicely framed statement on the state's fiscal year 2020 budget. ICOY is a longtime supporter of reframing, having brought workshops and presentations to their members throughout the state and to their peers at our newest National Reframing Initiative partner, the National Organization of State Associations for Children.
ICOY represents 84 Illinois youth service and child welfare organizations. Its mission is to "promote the safety, health, and success of Illinois' children, youth, and families by acting as a collective voice for policy and practice, and by connecting and strengthening the organizations that serve them."
"ICOY applauds the passage of the FY2020 Illinois State Budget" artfully integrates the Building Well-Being Narrative throughout its press statement acknowledging the state's new investments in its children, youth, and families. We selected a sampling of ICOY's exemplary reframing language and strategies to share with you. The statement:
Uses the value of human potential, including the benefits to society, early in the text: "We know that all children and youth have the capacity to succeed; when our young people can achieve their potential, they are able to give back and contribute to our society in positive ways."
Incorporates the construction metaphor.

By referring to those who will benefit from investments as people "who need community support to weather life's storms," indicating they're affected by factors outside of their control.
By referencing investments in child and youth-serving systems with maintenance and repair language: "rebuilding the human service infrastructure," "shore up the foundation," "repair what has been broken," and "stabilize these systems."

Maintains a reasonable tone and is solutions-oriented.
According to ICOY's Chief Executive Officer, Andrea Durbin, "The Building Well-Being Narrative has resonated with policymakers and staffers alike and provides the scaffolding on which to hang requests for increased investments in children and families." In particular, Durbin notes, "The value of human potential and construction metaphor make human services more accessible to those outside the sector who may not be as familiar with how the services contribute to individual and community well-being."
SPOTLIGHT: Annie E. Casey Foundation 2019 Kids Count Data Book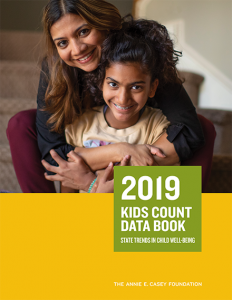 The Annie E. Casey Foundation recently published its "2019 Kids Count Data Book: State Trends in Child Well-Being" covering health, education, family and community, and economic well-being indicators at the national and state levels. The report found that while there was improvement on 11 of the 16 measures since the first edition was issued 30 years ago, the "risk of babies being born at a low weight continues to rise, racial inequities remain systemic and stubbornly persistent, and 12% of kids across the country are still growing up in areas of concentrated poverty." In presenting the wealth of information, the report and press release use several reframing strategies, including:
Invoking the value of all children's potential
Describing what children need to have to thrive
Linking child well-being with community well-being
Interpreting data and placing it in context over time
Offering specific policy solutions