public-policy
newsletter
Johnson Amendment Still in Play
August 30, 2018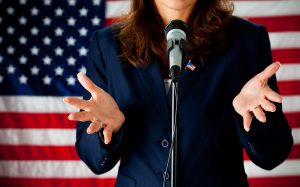 As we noted last month, the House-passed version of the Financial Services and General Government (FSGG) spending bill includes an anti-Johnson Amendment rider (Section 112) that would restrict the ability of the IRS to enforce nonprofit nonpartisanship. The Senate-passed version of the FSGG appropriations bill does not contain any provision to undermine the Johnson Amendment. These differences will need to be reconciled by a joint House-Senate conference committee. Conferees are expected to be named early next week when both chambers are back in session. Senator James Lankford (R-OK), chairman of the FSGG appropriations subcommittee, has been outspoken in his support to repeal or weaken the Johnson Amendment. When Congress returns next week, the human service sector must be just as vocal in its support of the Johnson Amendment.
The protections afforded to nonprofits by the Johnson Amendment allow the sector to focus on mission-related work that ensures everyone has what they need to thrive. Over time, this has made nonprofits and the human service sector a go-to source for expert advice, research, and programs, while generating deep public trust in nonprofits' abilities to provide solutions to our toughest problems.
Take Action
Your organization's voice is crucial to maintaining the public trust that the human service sector has earned through nonpartisan advocacy and bipartisan solutions that build community well-being.
If you haven't already, sign the Community Letter in support of nonprofit nonpartisanship.
Next week, use NHSA's talking points and call your Senators and Representative at 202-225-3121 to oppose all efforts in conference to include a controversial anti-Johnson Amendment rider to the Financial Services spending bill, H.R.6147.
Contact Brandon Toth at for additional information.