Reframing
newsletter
Illinois Partners Provides Valuable Reframing Insights and Advice
May 31, 2018
To kick-off the unofficial start to Summer, we're sharing the experiences of reframing trailblazer, Judith Gethner, founding Executive Director, Illinois Partners for Human Service, a statewide coalition of over 800 organizations. Since 2009, Illinois Partners has been leading research and campaigns to rebrand and reframe human services throughout the state.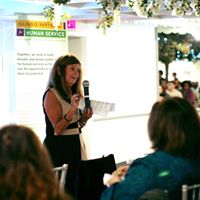 Gethner was also a very early supporter of the National Reframing Initiative and has worked diligently to integrate the FrameWorks Institute research findings into the state initiative. She was a member of the esteemed cohort of human service executives who attended the inaugural FrameWorks Institute-led training in 2015, hosted by the National Assembly and funded by the Annie E. Casey Foundation.
As one piece of its broader strategy, Illinois Partners formed a Reframing Committee, comprised of human service leaders from several communities, to accelerate the sector's adoption of reframing. Together—while also reframing their own organization's communications—they have mapped out a strategy for mobilization and implementation, including:
Illinois Partners Provides Insights

Gethner graciously spent time with us recently to share Illinois Partners' reframing expertise.
Q: What prompted Illinois Partners to join the reframing human services initiative?
Gethner: Illinois Partners was formed to take on some of the most complex challenges facing our sector. And we knew going in that increasing awareness and communicating the value of human services were among our top priorities. A 2011 Chicago Community Trust grant enabled us to engage consultants for one-year of statewide research, which included focus groups and listening sessions. Our initial campaign targeted business groups as well as Rotary and Kiwanis Clubs. A few years later, we started working with the National Assembly and shared our experiences at the 2015 National Reframing Initiative launch. The biggest shift for us when we joined the national initiative was expanding our reframing campaign to include the nonprofit community because these are providers on the front lines every day that are used to communicating a certain way. Our partnership with the National Assembly offers an opportunity to share a new, evidenced-based communications model with providers that can ultimately shift public opinion—this has been of great interest to many of our partners. We are extremely grateful for the National Reframing Initiative's commitment to Illinois.
Q: What was the biggest challenge in securing Board and/or stakeholder buy-in and how did you overcome it?
Gethner: We're challenged that the interest in reframing exceeds the current resources available to provide workshops and trainings here in Illinois.
Q: How did Illinois Partners successfully achieve sustainable implementation?
Gethner: Board members on the ground are consistent in implementing reframing in eight regions throughout the state. The Board formed a Reframing Committee that meets every month and that models reframing for the sector. A part-time communications staffer is immersed in reframing our internal and external communications. Additionally, Illinois Partners integrated the reframe into our website and strategic communications, and produced training and advocacy materials.
Q: How has reframing positively impacted Illinois Partners' communications and policy efforts?
Gethner: One of our goals is for legislators to change the way they think and talk about human services, so we developed specific reframe messaging, written from a legislative perspective, for Board members for an Advocacy Day in Springfield. Our theory of change is built upon the reframing model. We believe that influencers who become human service champions can take our message to elected officials, thereby creating an intrinsic value of the sector that is recognized through increases in funding, as well as the same innovation and investments as for-profit businesses. In the meantime, we celebrate small wins, such as when policymakers echo our messaging and it garners media coverage.
Q: As you were learning to reframe, what resources did you find particularly useful? 

Gethner: The National Assembly's Train the Presenter workshop helped us expand capacity and technical assistance from the National Reframing Initiative has been critically important. Subscribe to the National Assembly's Reframing Newsletter and find the opportunity for a 90-minute overview at a conference or watch one of the webinars available on the National Assembly's website. Watch the "Mapping the Gaps" FrameWorks Institute video on its research on how experts and the general public view human services differently (Password to access video: fw).
Q: What are your plans for reframing as an organization, particularly with engaging coalition organizations?  
Gethner: Implementing reframing as an integral part of Illinois Partners' strategic plan is one of four primary goals. Additionally, we developed a three-year strategic plan for reframing with milestones, timelines, and a budget. We're also committed to measuring impact, such as tracking how many nonprofit organizations engage with Illinois Partners reframing communications templates, as well as conducting a survey to understand how our partners talk about human services, use reframing materials and follow-up.
Q: What advice would you give to an organization that is starting on this reframing journey?
Gethner: Build reframing into your strategic plan and make it a part of your organization's work, so that you can fundraise around it because it's not "one and done." Also, develop a plan for how to model reframing as an organization and make sure it is part of the organization's long-term plan. Begin with securing Board and staff buy-in and a commitment to funding. Enlist a Board member to invite the National Reframing Initiative staff to conduct Board and staff training. It's easier for the organization to change when the Board is convinced of the value and it also results in a different way of speaking to donors. Finally, invite media to workshops because what they write about the sector matters.