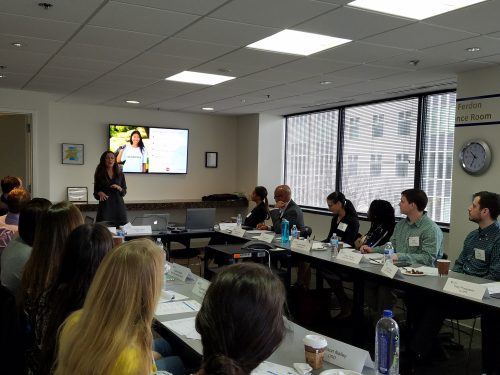 Join the Volunteer Development Council
Our most recent meeting included fantastic presentations from our partners at Verified Volunteers, Realized Worth, and Catcahfire. Verified Volunteers (our event sponsor) presented on the current state of volunteering for nonprofits in our country. Kim Chochon, Vice President of Partnerships for Verified Volunteers, and Katie Zwetzig, Executive Director for Verified Volunteers, were in attendance to help guide and facilitate discussion. Angela Parker, Co-founder and President of Realized Worth, a leading CSR consultancy specializing in transformative volunteerism, employee volunteer training, and employee engagement, presented on "Neuroscience and Transformative Volunteering: How Civic Engagement Changes our Brains." Lastly, our partners at Catchafire were in attendance to present on skills-based volunteering. Catchafire is a community of individuals striving to push the social good sector forward by focusing on efficient and effective ways to give back and matching professionals with nonprofits based on their skills, cause interest, and time availability.
The current Council Chair is Mei Cobb, Director, Volunteer & Employee Engagement at United Way Worldwide.
Want to learn more or join? Contact the Membership Team for information.
Build public support for human services so that all people have the opportunity to reach their full potential and contribute to thriving communities.
Sign up for our newsletters and stay up-to-date on the latest National Assembly and sector news.